In today's hectic environment, taking good care of our skin and nourishing it with natural and organic cosmetics is crucial. Aurganicum provides a selection of premium health, beauty, and wellness products to improve your skin's brilliance and vitality. This article will review some of their top-selling items and explain how to use them in your skincare routine to have a glowing, healthy complexion. Let's start now! 


Aurganicum Products To Achieve A Healthy Glow


    1. Gulab Jal  
One of the best ingredients for maintaining a healthy complexion is rose water, known for its hydrating and toning properties. Aurganicum's Chaitri Rose Water or Kashmiri Rose water, sourced from the finest roses, is a must-have addition to your skincare routine. Here is why :


Aurganicum's Chaitri Rose Water is made from 100% pure, natural roses, free from artificial additives or preservatives. This ensures that you are only getting the best for your skin.  


Gulab Jal can be used as a base or mixing agent with other skincare products, helping the skin absorb the beneficial ingredients more effectively and improving skin clarity and radiance.


The gentle astringent properties of rose water help tighten the pores and tone the skin, lowering the emergence of fine lines and wrinkles. It also has a soothing effect on sensitive skin, easing redness and irritation.  


The distinct fragrance of Kashmiri or Chaitri roses adds a touch of luxury to your skincare routine. The captivating scent uplifts your mood and provides a sensory experience.  


Rejuvenating And Nutritional 
Rose Water is enriched with antioxidants and vitamins that promote skin rejuvenation and nourishment. It revitalises dull and tired skin, giving it an immature and radiant appearance.  


This rose water is calming and ideal for sensitive and irritated skin. It helps reduce inflammation and redness, providing relief from various skin conditions.  


Gulab Jal has a pH similar to that of the skin, which helps maintain the skin's natural balance and promotes a radiant appearance.


    2. Wood Pressed Almond Oil  
Experience the goodness of Wood Pressed Almond Oil from Aurganicum. This versatile elixir unlocks the secrets to healthy and glowing skin. Here are the reasons why you should incorporate this oil into your beauty routine.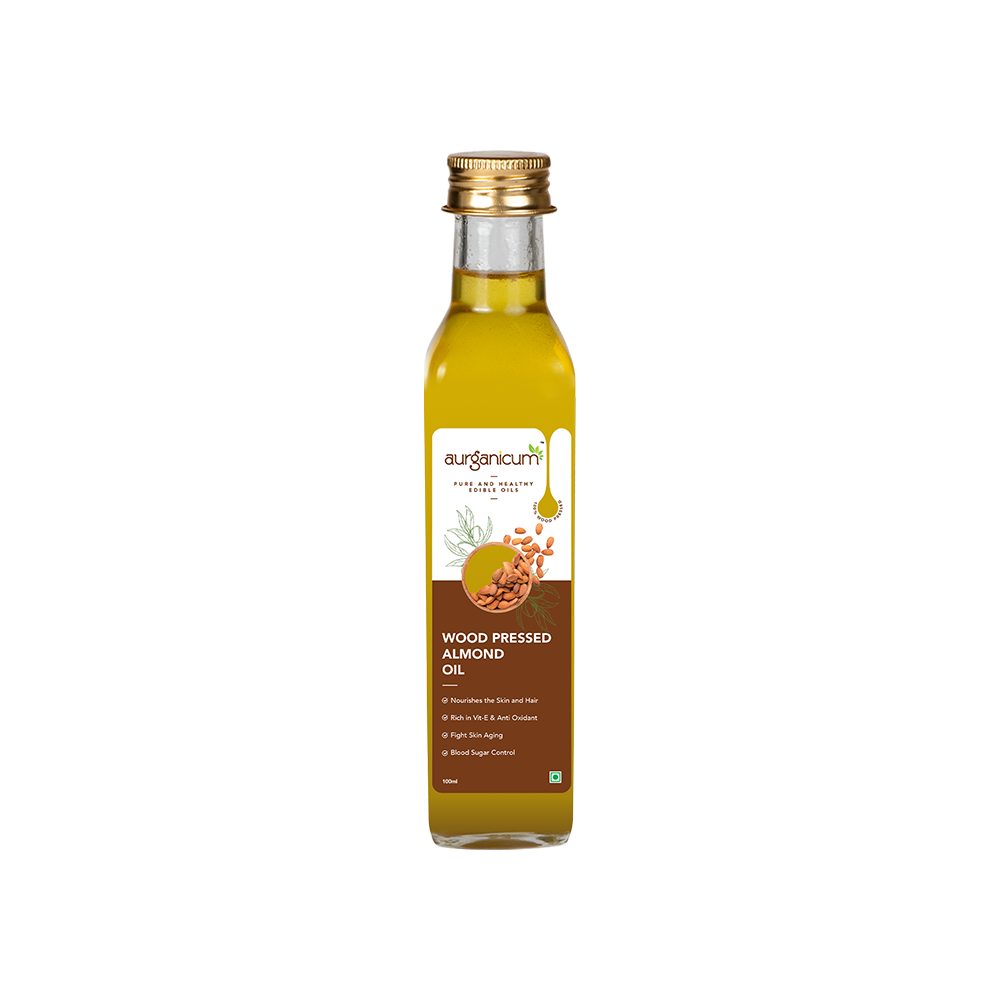 Due to its abundant vital fatty acids and vitamin E, almond oil is a fantastic moisturiser for dry skin. It completely enters the skin, feeding it from the inside out and leaving it smooth and silky.  


Brightening And Even Complexion 
Regular use of Wood Pressed Almond Oil can help reduce the appearance of dark spots and blemishes, promoting a more indeed skin tone. Its emollient properties restore your skin's natural glow, giving it a youthful radiance. 


Almond oil contains antioxidants that combat free radicals, contributing to unseasonable ageing. Incorporating this oil into your skincare routine can lower the signs of ageing, like fine lines and wrinkles. 


     3. Wood Pressed Apricot Oil  
Discover the nurturing properties of Wood Pressed Apricot Oil by Aurganicum, an all-natural remedy for achieving a healthy glow. Here is why this oil deserves a spot in your beauty arsenal.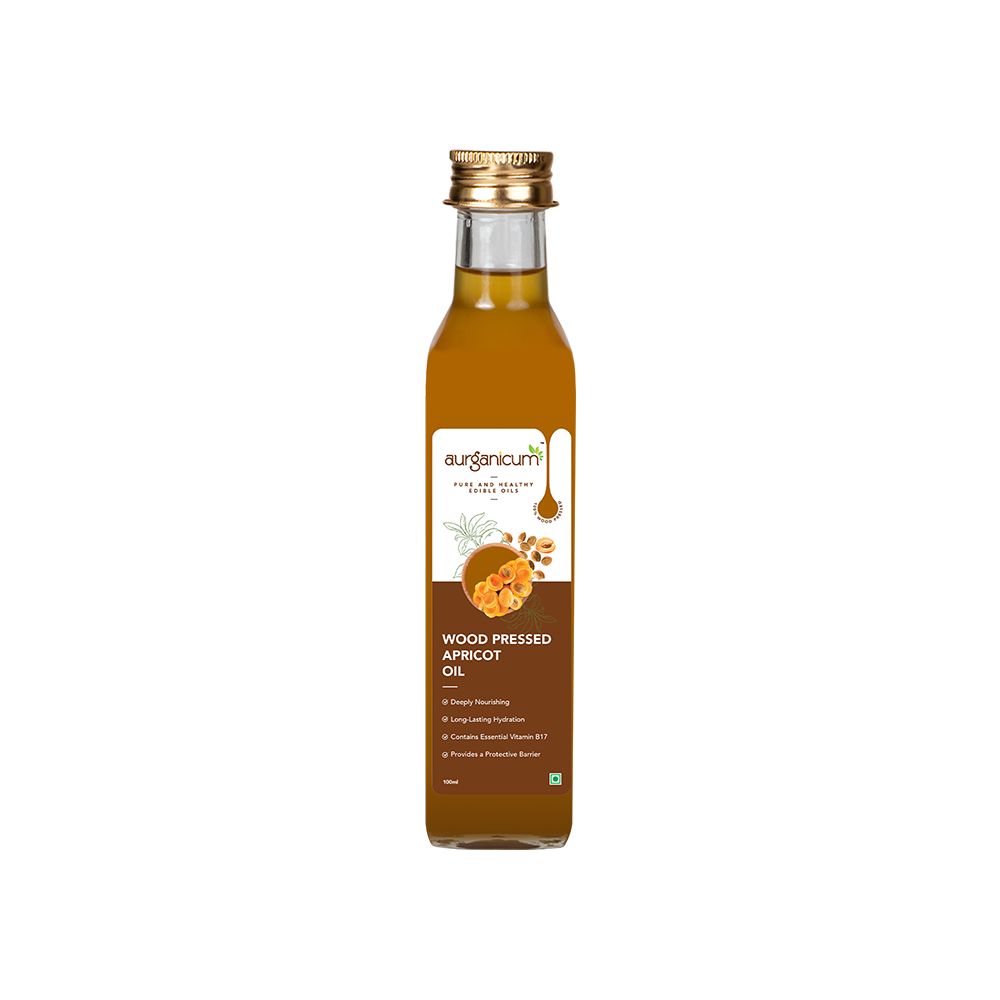 Anti-Inflammatory Effects
Anti-inflammatory elements included in apricot oil aid to soothe and relax sensitive or inflamed skin. It is helpful for disorders including eczema, dermatitis, and dry skin since it can lessen redness, itching, and irritation.


Wood-pressed apricot oil is lightweight and quickly absorbed by the skin, unlike thick creams or lotions. All skin types can use it because it offers all-day hydration without leaving a greasy aftertaste.


      4. Wood Pressed Virgin Coconut Oil 
Wood Pressed Virgin Coconut Oil from Aurganicum is the ultimate skin saviour to unleash the secrets of radiant and healthy skin. This protean oil offers multitudinous benefits for your skin, making it a must-have in your beauty regime. Here is why  



Coconut oil is an important natural moisturiser that deeply nourishes the skin, preventing dryness and flakiness. It forms a defensive subcaste on the skin's face, locking in moisture and leaving it soft and supple.  


Virgin coconut oil contains lauric acid and antioxidants that promote skin healing and form. It soothes, calms bothered skin, reduces inflammation, and aids in the recovery of various skin conditions.  


Wood Pressed Virgin Coconut Oil can help enhance your skin's natural glow. It improves skin tone, evens out complexion, and provides a youthful radiance that lasts.  


In Nutshell  
It doesn't have to take much effort or time to develop a healthy glow. By incorporating Aurganicum's products into your skincare routine, you can nourish and revitalise your skin, unveiling its natural radiance. Remember to pick products that suit your skin type and concerns. Embrace the power of nature and give your skin the care it deserves with Aurganicum products. Pamper yourself and enjoy the journey to a healthy and glowing complexion!